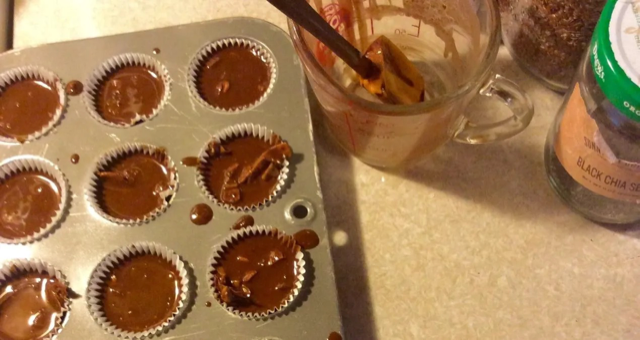 CHOCOLATE CRAVINGS AND CARB WITHDRAWALS
by Coach Drenda
FOR MANY OF US THERE ARE DAYS WHEN YOU FEEL AS IF YOU JUST MUST HAVE CHOCOLATE!
Here is a chocolate treat I started making for myself when I started a sugar restricted diet to combat an auto-immune candida problem.

One of the other things I had to remove temporarily was good old wheat. Bread making isn't my best talent, but I do enjoy making an authentic sour dough for the flavor and more effective digestion.

Going through the bread carbs withdrawal, can tend to make you feel extremely   h  u  n  g  r  y.

This occasional snack helps truly satisfy both of those problems.

Satisfying your body with healthy fats such as expeller pressed coconut oil while giving you so many health benefits. (Check out the long list on Coconutoil.com)

Plus protein from the seeds or nuts = ahh, yum & energy!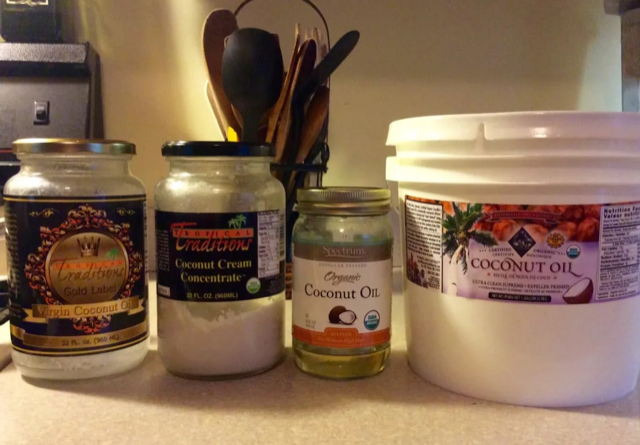 High quality Coconut oils.

I've learned to share since the rest of the family found they liked them too. Sometimes the treats have to be hidden deep in the freezer before they all disappear too quickly!

Melting the oils and chocolate.

Makes about 2 dozen mini muffins and takes approximately 15 minutes to prepare.



 


DRENDA'S CHOCOLATE COCONUT POWER BITES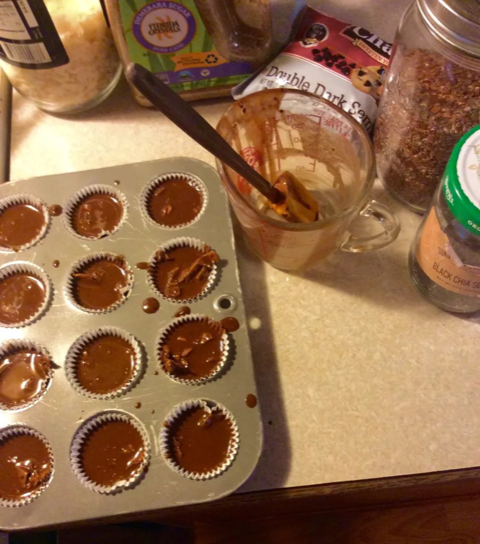 In medium to large pot fill half way with water and put a mason jar or glass pyrex measuring cup in the pot. Or use a double boiler.

I don't have one and we do NOT have a microwave. *(See bottom if you want to know why?)

Turn heat to med/low.

Put coconut cream and oil in the glass jar and stir till melted.

Add chocolate, stir to mix well.

Add coconut flakes and seeds and any extra add-ins of your liking.

Place mini muffin liners in pan or grease the mini muffin tin.
Pour or ladle into mini muffin pans

Chill in freezer for an hour or two and then enjoy!

Store in freezer in a covered container.
This is a low sugar and Low FODMAP treat for me so I don't add extra sugar than what's already in the chips, but if you want it sweeter, you could add a drop or 2 of Stevia, up to a table spoon of honey or maple syrup or sugar of your choice. I do like Florida Crystals made in the U.S.A.

FOR MORE FLAVOR VARIETIES, YOU CAN ADD OTHER EXTRAS SUCH AS GRATED CANDIED GINGER, ORANGE ZEST, CAYENNE PEPPER OR AN ESSENTIAL OIL LIKE LAVENDER, … GET CREATIVE!

See how to soak nuts to put in your recipes ->

*Our microwave broke over 5 years ago and we never replaced it after learning how not so great it was. Plus our awesome Bosch mixer took that spot. See the HealthyHomeEconomist microwave cooking article for the other "why nots"

Enjoy healthy & yummy snacking,

Coach Drenda