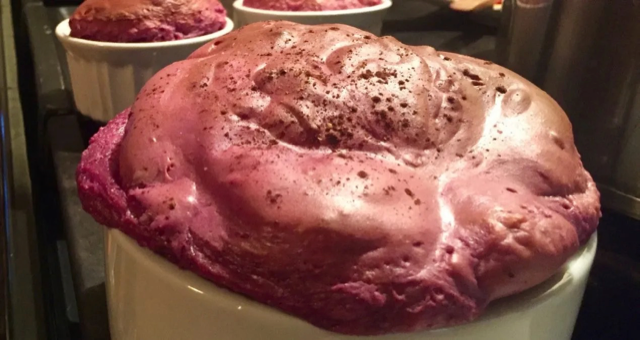 Revised December 2022
By MamaDrenda
NATURALLY SWEET, SWEET POTATO SOUFFLÉ
If you desire something sweet, warm, satisfying and good for you, but grain-free and no added sugar, here's a yummy one.

I enjoy a warm "dessert" that can also double as a breakfast! At least for me it does. A soufflé is basically a crustless pie. This one is packed with nourishment, protein and vitamins…
SWEET POTATO SOUFFLÉ RECIPE
INGREDIENTS
3 C. cooked sweet potatoes
1 C. Milk or Cream, fresh raw
3 Eggs, fresh local
2 t. Vanilla
1/2 t. salt
1 t. cinnamon
1/4 t. nutmeg
1/4 t. cardamon
1/8 t. ginger
1/8 t. clove
Optional: a sweetener, 1 T. Maple syrup or honey, or 3-6 drops of liquid Stevia
Sweet Potatoes are pretty sweet on their own.
INSTRUCTIONS
1 or 2 sweet potatoes should amount to 3 cups, I found purple ones at the local Fresh Thyme grocery store!
Poke with a knife and bake on a baking sheet in the oven for 35 minutes at 350º.
Once cooked the potato skin usually peals off easily with your fingers. (You can compost the skins or feed them to your pets :-))
Then add all ingredients to a high powered blender, I use my wonderful Vitamix, blend for 1 minute or until well pureed.
Pour potato mixture into a pie plate for a pie consistency or a straight sided baking dish(es) for a fluffy soufflé.
Sprinkle a bit of cinnamon or nutmeg on top. Baking the for 25 to 30 minutes at 350º
Let the soufflé or pie set for 10 minutes and then dig in. Refrigerate leftovers and it tastes good cold too.
You can substitute the sweet potato with cooked pumpkin or any cooked hard sweet squash such as butternut, kabocha… you just may need sweetener.